Do our self-check to see what you need to do to begin your financial journey
Preparing for your financial journey at any stage of life
(Click on a heading that relates to your situation for tips and advice).
---
The Value of Advice
When you buy a new home or car, it's easy to see what you're actually getting. With financial advice, to really appreciate what you are paying for, you need to look at the longer term. The graph highlights the difference financial planning can make to your situation and illustrates the value of advice. It shows two situations:
Situation One - the blue line represents how much money you could have on retirement at age 65 if you do not seek financial advice.
Situation Two - the orange line shows how much extra money you could have for retirement if you seek financial advice and implement the recommended strategies.
Seeking financial advice could result in over $70,000 extra for your retirement!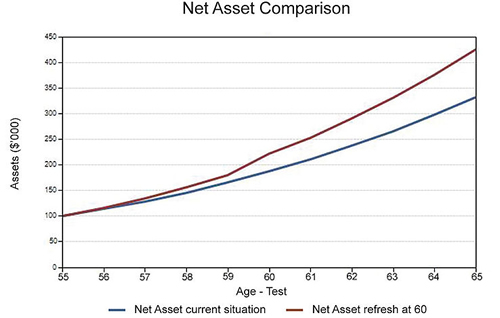 Data and assumptions: Where financial advice is sought, a financial plan is implemented with salary sacrifice to superannuation of $7,200 per annum until age 55. At age 55, a TTR pension is commenced with $190,000 from superannuation ($163,900 in today's dollars). Salary sacrifice is increased to $20,000 pa until age 65 and the minimum pension of 4% is selected. Surplus cash flow is placed in a bank account and interest is reinvested.
---
Take control of your finances with Personal Wealth Portal - everything you need, in one place, accessed from your phone or computer.
---
Financial Map powered by Six Park
---
We have found a number of useful calculators to help you with everything from working out a long-term savings plan through to calculating your superannuation.
---
General advice warning: The advice provided is general advice only as, in preparing it we did not take into account your investment objectives, financial situation or particular needs. Before making an investment decision on the basis of this advice, you should consider how appropriate the advice is to your particular investment needs, and objectives. You should also consider the relevant Product Disclosure Statement before making any decision relating to a financial product.
---